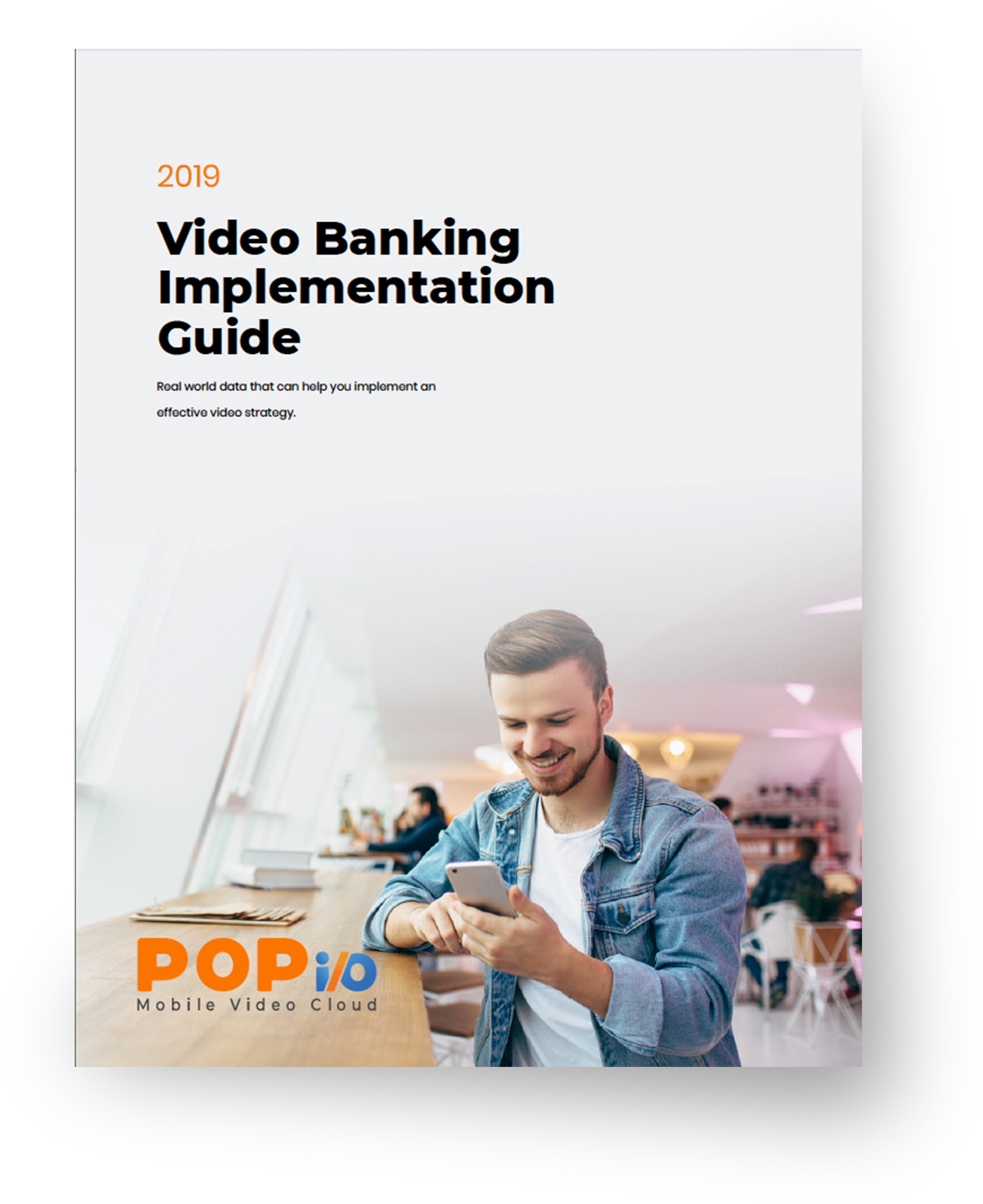 Bring your video banking strategy to life by utilizing a data-driven implementation. Successful financial technology implementations require three things:
Operational benefit: Technology must reduce operational and service friction
Measurable Goals: Use KPIs to forecast and meet organizational goals
Growth: Improve your organization's bottom line
Video banking technology can help you accomplish all of these. However, because it's new technology, you may be struggling to create a clear vision for your executive team or your board because you lack the experience to provide details on how you can successfully implement it across your organization.
Until now. POPi/o's exclusive data-driven implementation guide is the key to solving questions you have prior to starting a video project:
Operational benefit: What channel do I start with?
Measurable goals: How do we staff and support video banking?
Growth: What products and services do I make available through this channel?
Download: POPi/o Implementation Guide
What do you get from the guide?
The 
implementation guide
 provides real-world data from credit unions and KPIs that will help you realize your video strategy. Utilize this guide as a resource to execute your vision and define your video banking project.
Here are a few more questions the implementation guide can answer for you:
Do I have to select just one video channel?
Video banking is not just an add-on to your mobile banking app. It can be deployed across multiple channels, and your financial institution's unique operational profile and organizational goals should determine where you begin. Your peers prefer a certain channel to get started. Find out which one 
here
.
Are there other unique use cases that video banking can solve?
Yes, our research dug up an unanticipated and highly profitable product our FIs have found is a perfect match for video collaboration.
Who will adopt video banking?
You may be surprised, just like our clients were, to find that video banking appeals to more than just millennials and Generation Z. We've provided a list of unexpected demographic groups that love video banking and might inspire you to expand your video banking strategy to include more customers … and generate more revenue.
Video banking a revenue generator? Yes.
Forecasting technology ROI is often the most important metric for your executive team. But when technology is innovative and new to your institution, it's the most difficult to predict. We've broken down exactly how to compute ROI using average video banking conversion rates, and your call volume, loan sales goals and average interest rates.
How do I set up a video call center?
In general, video banking reps process the same transactions, sell the same products and communicate the same information as your call center reps and branch staff do. However, they are given greater resources to create higher immediate conversion rates. Additionally, video banking is a personal channel and requires problem solvers that can adapt to different situations quickly. We'll help you navigate those differences so you can effectively route calls, hire new or train existing staff, and build a video call studio that supports your brand while encouraging your consumers to engage with your reps.
Implement a vision that you believe in
At POPi/o Mobile Video Cloud, your success is our mission. We encourage you to download your 2019 Video Banking Implementation Guide and use it as a blueprint to bring your video banking strategy to life. If you need more data or information, please let us know! We'll be glad to provide it and add it to the guide so others can benefit.