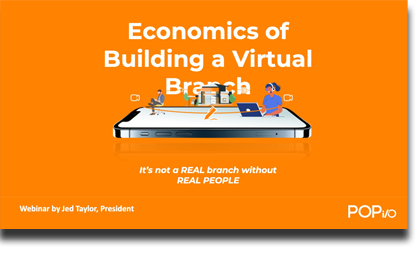 Do you want to take your bank or credit union to the next level? Have you considered a virtual branch? This relatively new concept in banking allows your consumers to have access to all bank services anywhere — with the touch of human interaction. If you're unsure of the economics of a virtual branch for your financial institution's budget, watch the video from POPi/o above that explains all the financial benefits and requirements of a virtual branch.
What Can You Provide Your Consumers With a Virtual Branch?
Even if you've already embraced online banking, virtual banking brings a face to your financial institution. A virtual branch allows you to:
Enhance your mobile banking services
Interact with consumers online
Take care of customers' financial needs from anywhere
Provide key services such as new account openings, lending, digital documentation signing, wire transfer, or identity verification
Work from the comfort of home, centralized facility, or in-branch environment
All these capabilities allow consumers to make important financial decisions, allow you to showcase your various financial services or products, and let everyone build rapport for better interactions.
If you don't know if a virtual branch and its associated costs are right for you, we'd love to demonstrate what we can offer. We provide a range of virtual branch solutions that work for your specific bank or credit union. Our goal is to help your financial institution provide consumers with transparent, convenient, and cost-effective solutions for their financial needs.
If you're interested in learning more, we invite you to watch the video above for the specific economics of a virtual branch. To speak with a product expert and see a comprehensive demonstration of what video banking can offer your financial institution, schedule your appointment now.
Do you have questions? Please talk to an expert